If you have been given a discount code by TotHost or if you have a discount code program but don't know how to use it, follow the simple instructions below to enjoy the discount for your order:
Step 1: Access the CloudGate portal (https://billing.tothost.vn).
The discount codes are only valid on this portal. This means that the discount codes are only applicable to VPS SSD service orders available on CloudGate.
Step 2: Choose the services according to your needs. Once you have finished, click on the shopping cart icon in the top right corner to review your order.
Step 3: Enter the discount code in the "Apply Promo Code" box and select "Apply".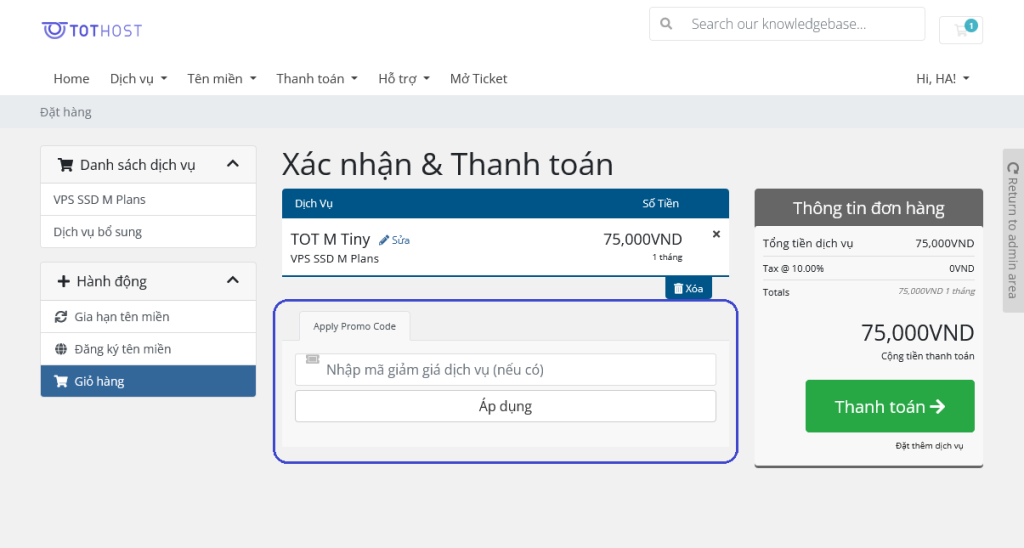 The order total after applying the discount will be displayed immediately. Then, click on the "Checkout" button and proceed with the payment as usual.
Note: The form of the discount and the specific product details eligible for the code may vary depending on each specific program.
Here's how to use TotCode - TotHost's discount code - in just 3 simple steps. Don't hesitate, apply the code now!
Check out more promotional programs from TotHost: https://tothost.vn/category/tin-khuyen-mai/