HELLOTOT is back! Starting from 07.07, every new customer who purchases a TotHost VPS at CloudGate will receive special privileges to "float in the cloud": a voucher worth 150K or a 15% discount code for VPS orders.
Program Introduction:
Program Name: "HELLOTOT: Hot Deal for Newbie"
Duration: From 07.7 to 31.7.2023
Promotion Type: Service discount
Applicable Audience: Customers who have never used TotHost services.
Nội dung khuyến mại: Trong thời gian diễn ra chương trình, tất cả khách hàng mới sẽ nhận được 2 mã ưu đãi đặc quyền, cụ thể:
+ HELLOTOT50: Giảm 50K/tháng/VPS trong 3 tháng đầu tiên. Lưu ý: Mỗi VPS giảm 50K. Nếu mua 2 VPS, bạn sẽ được giảm 100K; mua càng nhiều càng được giảm nhiều.
+ HELLOTOT15: Giảm 15% cho đơn hàng đầu tiên
How to Claim HELLOTOT 2.0 Offers:
Step 1: Register a TotHost Cloudapp account here
Step 2: Select and purchase the desired VPS. During checkout, enter the corresponding discount code HELLOTOT50 or HELLOTOT15 in the Promo Code field to receive the applicable offer, then click the Apply button.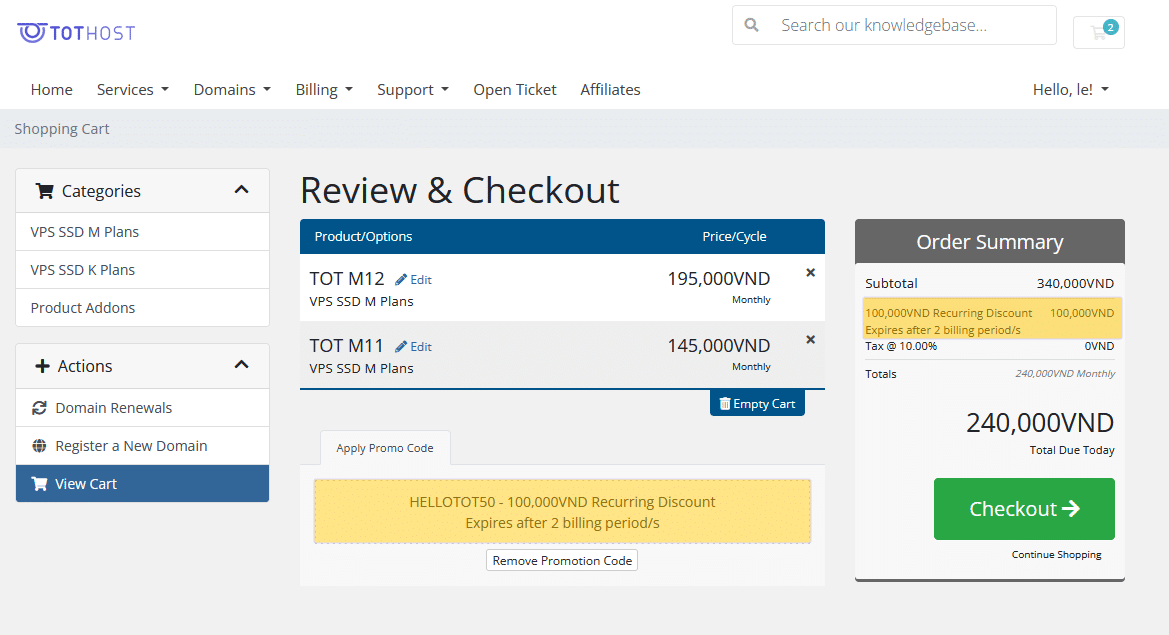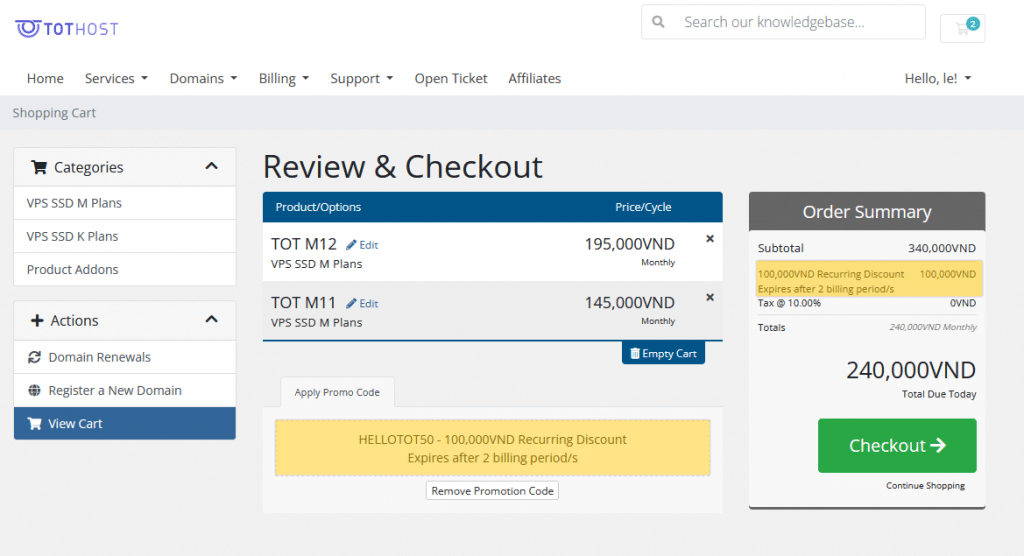 Step 3: Click the Proceed to Payment button and select the appropriate payment gateway.
The HELLOTOT50 code is also valid for the next 2 renewal cycles. Remember to continue renewing to avail of the offer.
Note:
Hướng dẫn mua, set up VPS TotHost tại: https://tothost.vn/c/blog/huong-dan-su-dung/
To enjoy the benefits, make sure to enter the correct voucher code during the service payment. Each customer can only apply one code.
Each discount code can be used once.
The discounted amount will be deducted directly from the service fee during order payment.
The program is non-refundable in cash.
It cannot be combined with other ongoing promotions. It is only applicable alongside the offers for quarterly/half-yearly/yearly purchases.
For any inquiries about the program details, feel free to contact TotHost.